by KindMeal.my

Canadian 2 for 1 Pizza Malaysia brings you 6 irresistible meat-free pizzas: Hawaiian supreme, oriental veggie, 4-cheese & more! Don't miss out on their sumptuous variety of macaroni, salads, breadsticks, snacks and desserts too. Enjoy up to 40% off with KindMeal now:
by KindMeal.my

Immerse yourself within Cafe etc.'s cozy, creative environment at Chinatown! Indulge in assorted mushroom bagel, spaghetti pomodoro, omelette, wild mushroom salad, decadent cakes and desserts. Enjoy up to 25% off with Digi Rewards!
by KindMeal.my

This parrot's best friend is sick — so she does ALL the silly dances to cheer her up.
by Animal Equality

Not only do billions of fish suffer and die on farms every year, we are emptying the oceans to feed them. This #worldoceansday pledge to leave our fish friends off your plate. www.ianimal.uk/pledge
by Vegan.com

The meat industry will hate almost every paragraph of this article, which also suggests switching to vegetables as a way to reduce cancer risk.
by Compassion Over Killing

World's largest meat producer sells multiple beef operations, as its parent company pays a $3 billion fine for bribery in Brazil:
by Compassion Over Killing

JBS sells beef operations in 3 countries, as parent company J&F pays a $3 billion+ fine for bribery in Brazil:
by Compassion Over Killing

Big win for birds: The US Supreme Court rejected a challenge of Prop 2, California's ban on the sale of eggs from battery-caged hens! READ & SHARE:
by Compassion Over Killing

Click to visit Ahersa's Kickstarter page & support PEACE, a moving new book series that inspires children to help create a kinder world for all! Pre-orders of PEACE benefit COK & other animal protection organizations.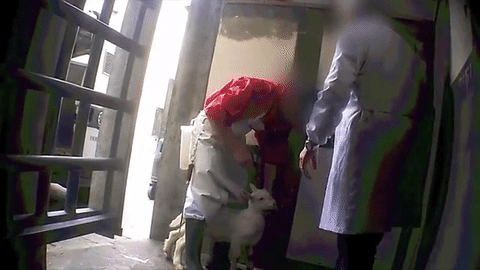 by Animal Equality

This is the horrific ending for millions of animals on factory farms. SHARE if you know they deserve better!