by KindMeal.my

It may not seem obvious that the decision to eat a steak or a burger has any impact on animals apart from the slaughtered cow, but this is not in fact the case. In terms of animals and ecosystems, the foods we choose to eat as individuals accumulate into massive worldwide problems. Raising cattle ..
by KindMeal.my

Thank you to the ever helpful Sean of Eat Drink KL for featuring our World Animal Day campaign in support of animal shelters! Eat Drink KL has also been extremely kind in showcasing KindMeal.my deals on every page of their blog. If you haven't done so yet, enjoy a meat-free meal now! Every coupon ..
by KindMeal.my

A fun Charity Walk in aid of children's homes at Nexus Bangsar South, in conjunction with the mall's official launch. Thanks to the amazing Superheroes of Mango Chili for kindly promoting KindMeal.my with two awesome placards! Mango Chili features "A Meal For A Meal" program which donates a meal to..
by KindMeal.my

An authentic experience of the popular 60's street food at Hou Xiang, Taman Sea. 5 sauces to delight you, prepared from traditional recipes: KL Sweet Sauce, KL Salty Sauce, Ipoh Sauce, Spicy Sauce and Soy Sauce. Download KindMeal.my app for FREE coupons now. Dine immediately, no upfront payment,..
by KindMeal.my

It's the weekend – let's party like otters! These two baby river otters were rescued when it was clear that their mother was unable to care for them. Their first swimming expedition in the animal sanctuary is priceless. Otters are recovering from the brink of extinction in the UK, where pesticid..
by KindMeal.my

Pickle & Fig TTDI not only offers a healthy and hearty palate, but also prides itself as a nice, cosy neighborhood laid-back joint. Enjoy 31% off their delicious vegan sandwich made of portobello mushroom, tahini hummus, roasted bell peppers and infused oil on wholemeal or white bread. Served wi..
by KindMeal.my

Industrial breeding has created chickens that grow at a freakishly rapid rate: up to three times faster than just 60 years ago. These huge birds are commonly crammed into small spaces, and many spend their short lives injured and sick, unable to even walk. Farming practices have changed drastically..
by KindMeal.my

Green Talk Healthy Organic & Cafe at Subang Jaya offers you a wide range of delicious vegan meals prepared with fresh, quality organic ingredients. Don't miss out on their popular Organic Focassia Sandwich and Organic Pizza, well loved by KindMeal members! Grab their KindMeal.my exclusive deals ..
by KindMeal.my

The Cambridge Declaration on Consciousness delivers an important and long overdue statement. In the just-released Cambridge Declaration on Consciousness, witnessed by Stephen Hawking, a prominent group of scientists has declared that humans are not unique in ways that matter. Says the panel, "Non-..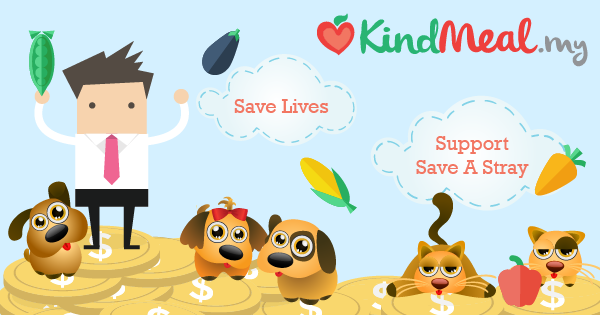 by KindMeal.my

Want to support an amazing animal shelter? Join KindMeal.my through this page, and RM5 is donated to Save a Stray Malaysia when you try your first meat-free meal. Plus, win a cool Animal Tee too! Enjoy delicious meat-free meals at great discounts, while saving lives, health and environment!