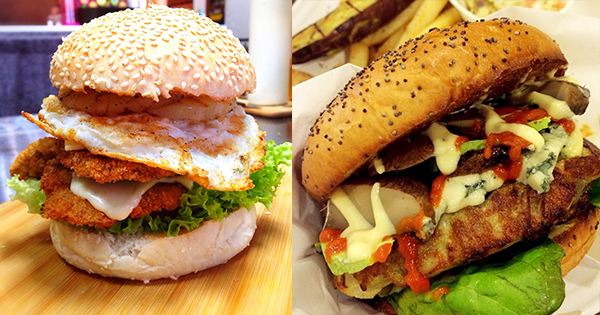 by KindMeal.my

Craving for the most awesome burgers? Our KindMeal.my burger connoisseur brings you 8 of the juiciest, tastiest meat-free burgers in town for your indulgence. Mouth-watering, healthy, animal- and eco-friendly, with great discounts. What more are you waiting for? =)
by KindMeal.my

TiPsy Brew O'Coffee at Puchong serves the finest specialty roasters, brewed by hand using syphon, hand-drip, french press and any other apparatus they deem worthy for a great cuppa. In support of meat-free dining, they've introduced 2 exciting deals at 31% off – a healthy, heavenly delicious set..
by KindMeal.my

The Americans are gearing up for the Thanksgiving holiday on Thursday, and this fellow is giving his pet hamsters, rat and rabbit something to be thankful for. OMG, wait till you see the teeny little pies! November in the United States is the late autumn – a time to celebrate a good harvest and h..
by KindMeal.my

Take a trip down the memory lane of Malaysia's traditional street food at SS2 Goreng Pisang 炸蕉黄, 1Utama – Pisang Goreng and Sweet Glutinous Rice Cake! Their signature fried banana comes with an impeccable sweetness and crunchiness that melts in your mouth with every bite; while the Sweet Glutino..
by KindMeal.my

It appears Rudolf the red-nosed reindeer has been given a shot at alternative employment. Russian authorities are considering installing a 'reindeer police force' to help combat crime in Russia's frozen Arctic tundra region in the far north of the country. Police sources told the Izvestia newspap..
by KindMeal.my

As the world's largest Indian vegetarian chain with 80 outlets globally, Saravana Bhavan prepares its delicious cuisine to exacting standards – a testimony to the impeccable quality and taste. Enjoy a tasty and satisfying assortment of meat-free deals, exclusively on KindMeal.my. Download our ap..
by KindMeal.my

Want Salad but also additional Vege-power-packed Sandwich that would add a kick to your day, leaving you feeling sexy? Salad Atelier at Jalan Raja Chulan and Jalan Tun Razak offers the perfect scrumptious and crunchy deal for hungry green sexy Munch-sters. Download KindMeal.my app for FREE cou..
by KindMeal.my

The Americans will be celebrating Thanksgiving on Thursday, 27 November, and American vegetarians and vegans are already bracing themselves for the dreaded list of questions they know they'll face. It doesn't matter what the holiday might be – Christmas, Chinese New Year, Deepavali or Hari Raya –..
by KindMeal.my

Seeking sweet delights to pamper yourself this weekend? Check out this delicious set of 3 mini cupcakes and 3 regular cupcakes at Rendezvous Corner Subang Jaya, served with a fragrant pot of Tropical Fruit Tea. Download KindMeal.my app for FREE coupons now. No upfront payment, booking or printin..
by KindMeal.my

You probably know that vegans don't eat animal products, eschewing not only meat, but dairy products, eggs, and (for some) honey, and leather/wool/animal-derived clothing too. You might also know that it's easier than ever to be vegan (perhaps you've noticed that many food chains now label dishes ..