by KindMeal.my

Experience the gracious elegance, authentic and innovative dining at Rama V Fine Thai Cuisine, set amongst a magnificent pool of lotus blossoms, quietly tucked away from the busy district of Kuala Lumpur. This award-winning restaurant is rated as one of Malaysia's best by Tatler's Magazine; reco..
by KindMeal.my

Dogs are extremely intelligent, and so are chickens, cows, pigs and other animals too! If we can spend some time and effort to understand them, there's a wealth of experience we can learn from their simple yet genuine actions and emotions. The intelligence of animals can only be appreciated as fr..
by KindMeal.my

Tedboy Bakery at Bangsar is here to delight you with their signature bakeries, prepared with premium all-natural ingredients and mostly handmade from scratch. Experience their popular items now, hot off the oven (literally) – 45% off Cream Cheese Bagel Set and 33% off Gluten-Free Cakes! Downloa..
by KindMeal.my

For better or worse, we in Malaysia can find irresistible food on offer around the clock. Maybe it's time, though to explore when it's best for our health to eat. What if you could eat more and gain less weight? Or eat at a different time and feel more energy? It may sound like a gimmick, but 5,000..
by KindMeal.my

Whether you're grabbing a quick bite or having lunch, The Bee's Grilled Swiss Mushroom Sandwich is sure to satisfy. Paired with The Bee's signature Half & Half, a refreshing blend of iced tea and lemonade – it's a hearty meal indeed! Download KindMeal.my for FREE coupons and dine instantly at th..
by KindMeal.my

And the gold medal for bear-bogganing goes to... After wet snow blanketed the greater Toronto area on Monday, a male giant panda named Da Mao made the most of what was clearly an enjoyable turn of weather events for him. In this video captured by the Toronto Zoo, the big fella can be seen amusing ..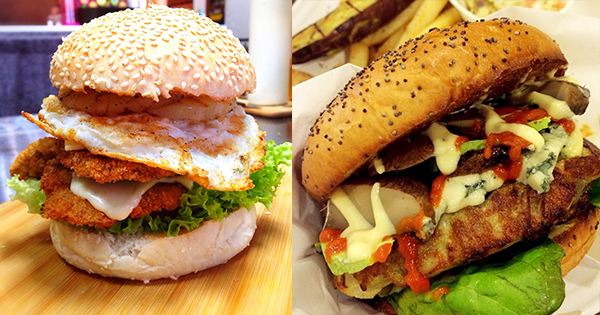 by KindMeal.my

Craving for the most awesome burgers? Our KindMeal.my burger connoisseur brings you 8 of the juiciest, tastiest meat-free burgers in town for your indulgence. Mouth-watering, healthy, animal- and eco-friendly, with great discounts. What more are you waiting for? =)
by KindMeal.my

TiPsy Brew O'Coffee at Puchong serves the finest specialty roasters, brewed by hand using syphon, hand-drip, french press and any other apparatus they deem worthy for a great cuppa. In support of meat-free dining, they've introduced 2 exciting deals at 31% off – a healthy, heavenly delicious set..
by KindMeal.my

The Americans are gearing up for the Thanksgiving holiday on Thursday, and this fellow is giving his pet hamsters, rat and rabbit something to be thankful for. OMG, wait till you see the teeny little pies! November in the United States is the late autumn – a time to celebrate a good harvest and h..
by KindMeal.my

Take a trip down the memory lane of Malaysia's traditional street food at SS2 Goreng Pisang 炸蕉黄, 1Utama – Pisang Goreng and Sweet Glutinous Rice Cake! Their signature fried banana comes with an impeccable sweetness and crunchiness that melts in your mouth with every bite; while the Sweet Glutino..