by KindMeal.my

An authentic experience of the popular 60's street food at Hou Xiang, Taman Sea. 5 sauces to delight you, prepared from traditional recipes: KL Sweet Sauce, KL Salty Sauce, Ipoh Sauce, Spicy Sauce and Soy Sauce. Download KindMeal.my app for FREE coupons now. Dine immediately, no upfront payment,..
by KindMeal.my

It's the weekend – let's party like otters! These two baby river otters were rescued when it was clear that their mother was unable to care for them. Their first swimming expedition in the animal sanctuary is priceless. Otters are recovering from the brink of extinction in the UK, where pesticid..
by KindMeal.my

Pickle & Fig TTDI not only offers a healthy and hearty palate, but also prides itself as a nice, cosy neighborhood laid-back joint. Enjoy 31% off their delicious vegan sandwich made of portobello mushroom, tahini hummus, roasted bell peppers and infused oil on wholemeal or white bread. Served wi..
by KindMeal.my

Industrial breeding has created chickens that grow at a freakishly rapid rate: up to three times faster than just 60 years ago. These huge birds are commonly crammed into small spaces, and many spend their short lives injured and sick, unable to even walk. Farming practices have changed drastically..
by KindMeal.my

Green Talk Healthy Organic & Cafe at Subang Jaya offers you a wide range of delicious vegan meals prepared with fresh, quality organic ingredients. Don't miss out on their popular Organic Focassia Sandwich and Organic Pizza, well loved by KindMeal members! Grab their KindMeal.my exclusive deals ..
by KindMeal.my

The Cambridge Declaration on Consciousness delivers an important and long overdue statement. In the just-released Cambridge Declaration on Consciousness, witnessed by Stephen Hawking, a prominent group of scientists has declared that humans are not unique in ways that matter. Says the panel, "Non-..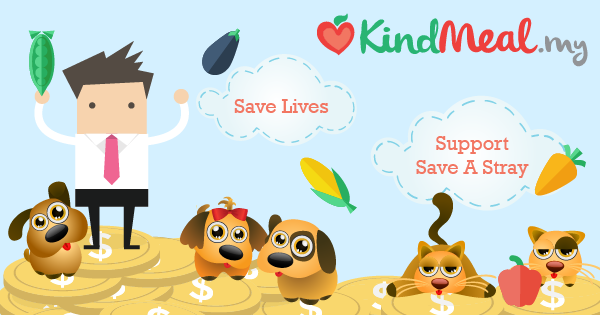 by KindMeal.my

Want to support an amazing animal shelter? Join KindMeal.my through this page, and RM5 is donated to Save a Stray Malaysia when you try your first meat-free meal. Plus, win a cool Animal Tee too! Enjoy delicious meat-free meals at great discounts, while saving lives, health and environment!
by KindMeal.my

Greenlicious offers a wide range of creative meat-free meals that are both delicious and a visual beauty. From their Nasi Lemak KL Tower to Lei Cha King to Tomato Spaghetti, every item is cooked to perfection with generous ingredients. Get up to 44% off at KindMeal.my! Download our app for LiveC..
by KindMeal.my

Watch this cute litter of pups learning to herd some ducklings from their mommy! Both are intelligent and adorable, yet one is often (mis)labeled as "Food" while the other, "Pet". Are they really so different that only one group deserves love and life? Enjoy meat-free meals today at KindMeal.my an..
by KindMeal.my

If you are passionate on improving the lives of animals, we have just the right adventure for you. Marketers nationwide are needed to recruit F&Bs, where every restaurant on board can potentially save hundreds of animal lives each year by encouraging meat-free dining, on top of improving health a..