by KindMeal.my

Ode Art Cafe at Subang Jaya is the perfect destination – a creative community space to share and appreciate art and craft, connecting individuals from all walks of life. Enjoy 30% off their signature Mushroom Aglio Olio and Tea Time Special with KindMeal.my LiveCoupons. Download our app now to d..
by KindMeal.my

We've just passed 2 September, the birth date of the man who coined the word 'vegan' – Donald Watson. Mr. Watson, traumatised after watching the slaughter of pigs on his grandfather's farm, committed to a vegetarian lifestyle when he was 14 and became a vegan at 34. He was 95 years old when he p..
by KindMeal.my

Saravana Bhavan, renowed for its impeccable quality and taste, offers over 350 dishes in 10 categories to budget-conscious customers, prepared to exacting standards across all outlets. Grab a KindMeal LiveCoupon now to experience their delicious meal sets. Download our app for instant coupons – ..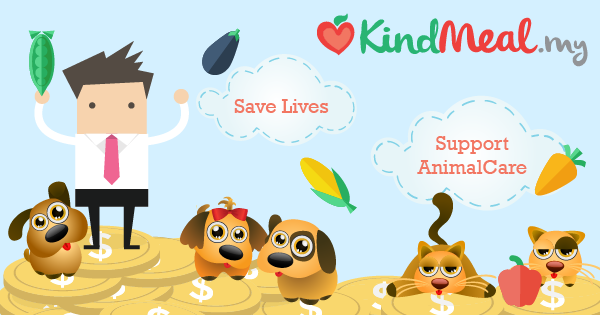 by KindMeal.my

Introducing KindMeal.my's World Animal Day Campaign! In conjunction with World Animal Day on October 4th, we're launching a month-long campaign to encourage meat-free dining to save the precious lives of both pets and farm animals. Animal welfare NGOs will receive a RM 5 donation for every animal..
by KindMeal.my

Director James Cameron switched to a vegan diet in 2012, and has since become a vocal proponent of plant-based diets for both environmental and health reasons, the Las Vegas Informer reported Aug. 17. Cameron became vegan in 2011, saying he was motivated by a desire to preserve the planet. Along ..
by KindMeal.my

Thank you to Mango Chili for featuring 2 exclusive KindMeal.my pages in their menu to encourage meat-free dining! Their customers can directly download our KindMeal.my app and grab a coupon to enjoy delicious meat-free Thai dishes and desserts at generous discounts. Plus, Mango Chili donates a mea..
by KindMeal.my

We shouldn't be too anthropomorphic (assigning human qualities to animals), but these bears are doing some really great impersonations of... well, of persons. Of us! Waiting for lunch to be served, snapping a selfie, admiring the new manicure, jump-starting the prop plane, admiring the view while ..
by KindMeal.my

The Ganga Cafe at Bangsar will delight you with their unique rendition of a meat-free burger, packed with juicy, fresh vegetables and melted cheese. The wholesome meal set also comes with generous portions of Pav Bhaji, Vada Pav, Bhatura, Vadai and Bru Coffee. Enjoy 42% off this exclusive KindMe..
by KindMeal.my

Two week-old Douglas was found abandoned in Zambia in May 2013. Kind-hearted rescuers brought him to the Chipembele Wildlife Education Trust (CWET). Founders Anna and Steve Tolan have over 16 years of experience rearing orphaned animals and returning them to the wild – but this was the first tim..