by KindMeal.my

Fruits are good for you!
by KindMeal.my

Bear bile products are forbidden in most Asian countries, and activists are trying to end this cruel, unsustainable practice.
by KindMeal.my

Baby goose follows his rescuer everywhere 💕
by KindMeal.my

Meet the cutest babies of the animal kingdom ❤
by Compassion Over Killing

The grouper fish is considered the "puppy dog of the sea" because of how friendly and playful they are 🦮🐠 The sad reality is that these fish are critically endangered due to commercial and recreational fishing. To help animals like the Nassau grouper take animals off your plate and #TryVeg
by Compassion Over Killing

The Animal & Vegan Advocacy Summit took place over the weekend. Here's some of our team members outside of our booth. Thank you to everyone who attended and stopped by our booth 💚
by Animal Equality

🐮 💔 Did you know an estimated 9.3 MILLION cows suffer in the U.S. dairy industry? 🌱 By reducing or eliminating meat, dairy, and eggs from your diet, you can actively contribute to ending this cycle of suffering! Together, we'll transform the world, one bite at a time. ✨ Make a compassionate choic..
by Animal Equality

Happening now! Activists are standing up for pregnant pigs in Denny's supply chain who are forced to live their lives in cages. Take action at itsdinertime.com.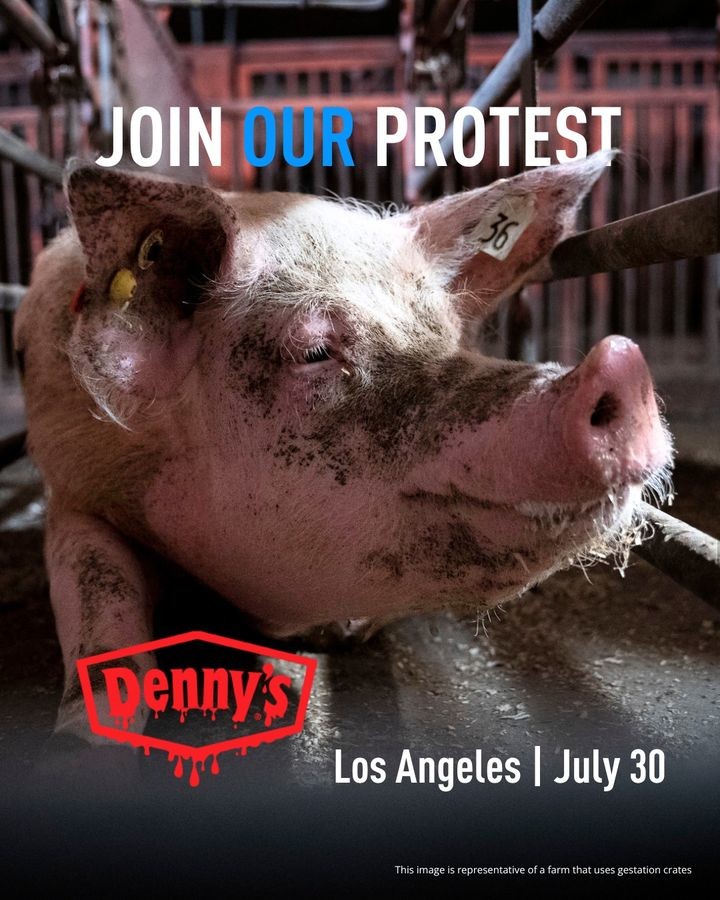 by Animal Equality

🌟 Los Angeles! Join our last protest of the month this Sunday (7/30), where leaders of our organization will gather to demand change for mother pigs trapped in Denny's supply chain! ☑️ Event for details: 📅 SUNDAY 7/30/2023 📍5535 W Century Blvd, Los Angeles, CA ⏰ 2:00 PM (PT) 🔴 TAKE ACTION: itsdin..