by KindMeal.my

The bonds between albatrosses can last decades, and every year they return to this colony.
by KindMeal.my

A pretty tart to wow your guest!
by KindMeal.my

AMAZON VEGAN, Mont Kiara pampers you with healthy vegan burgers, tacos, sides, milkshakes, soft-serves and beverages. All items are deliciously produced in-house with care and quality — buns, patties, mayonnaise, cheese and drinks. Enjoy 10% off:
by Compassion Over Killing

Why momentum is building for the push to end factory farming. Read more:
by Compassion Over Killing

Did you know that every person who observes Meatless Mondays reduces their carbon footprint by eight pounds per day - the same impact as not driving for two days - and also saves 28 land and 175 aquatic animals per year. That's a huge difference 🌱💚
by Compassion Over Killing

All animals deserve to be happy. Stop supporting the animal agriculture industry by leaving animal products off your plate. #GoVegan
by Animal Equality

Recently, Animal Equality's President Sharon Núñez was asked to speak at the AVA—Animal & Vegan Advocacy—Summit. Surrounded by fellow animal activists, Sharon shared how she finds hope and inspiration in her fight for animals. We hope you, also as an animal activist, find inspiration in these words..
by Compassion Over Killing

If you care about animals or want to learn the truth about the cruel abuse of animals in the animal agriculture industry, now is the time to get involved in the animal protection movement. Here are five easy ways to get started: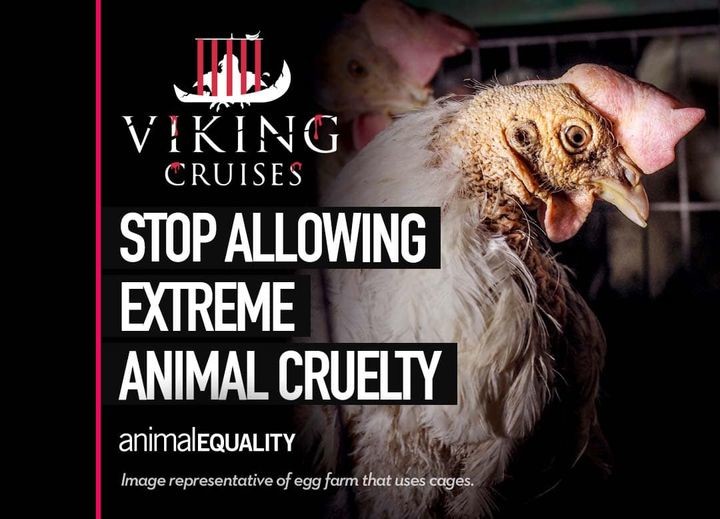 by Animal Equality

As part of the Open Wing Alliance (OWA), Animal Equality is calling on Viking Cruises to ban the use of cages in their egg supply chain. 🐔💥 Viking—the world's leading small ship travel company—is the only major cruise line that has not yet committed to eliminating the use of eggs from caged hens. ..
by Compassion Over Killing

How did animal agriculture change so rapidly in the United States? Find out here: