by KindMeal.my

We've just upgraded our KindMeal.my technical infrastructure to serve you delicious meat-free deals at blazing pace, so you'll have more reasons to experience these yummy meals! If you haven't noticed, we have just introduced a Mobile Website version to enhance your browsing experience too. Just po..
by KindMeal.my

Love creative fusion sushi? Check out Tong Hoe Cafe at Kepong, serving fresh meat-free sushi and other Asian delights! Enjoy 20% off their Sushi menu and experience love at first bite. Discount applicable for drinks too. Dine instantly with KindMeal.my app's free coupons!
by KindMeal.my

Started by Michael Aufhauser and Irene Florence, Gut Aiderbichl is an animal sanctuary based in Austria. The organization started small, only housing 25 animals, but has been growing steadily since its inception. Today, Gut Aiderbichl has 25 sanctuaries in Austria, Germany, Switzerland and France ..
by KindMeal.my

Inspire your creativity with aromatic coffee at The Ficca's Café, Ipoh. Enjoy whole grain bread filled with well-seasoned scrambled eggs; a salad of red & green coral, almonds and raisins with Ficca's secret dressing; and potato wedges. Dine now with KindMeal.my app's free coupons.
by KindMeal.my

Delicate and decadent. Satisfy your sweet tooth with a slice of TiPsy Brew O'Coffee's luscious Toffee Banana cake, with creamy Toffee and banana sandwiched between layers of fluffy sponge cake! Comes with Gryphon Osmanthus Sencha.. Dine now with free KindMeal.my app coupons.
by KindMeal.my

Meet the Beast Burger - more protein than beef, more iron than steak, more omegas than salmon, more calcium than milk. Beyond Meat Founder Ethan Brown says their meatless products taste and feel like the real thing and that they can revolutionize the way we eat. No wonder Bill Gates and others hav..
by Compassion Over Killing

Russell Simmons has been vegan for 20 years -- and he just wrote a new book about: Happy Vegan! He refers to factory farming as a "karmic disaster" for causing immense suffering and environmental destruction.
by Compassion Over Killing

BREAKING NEWS: 60 Congressmembers urge USDA to halt the dangerous high-speed pig slaughter program COK exposed at a slaughterhouse in MN. Read & SHARE: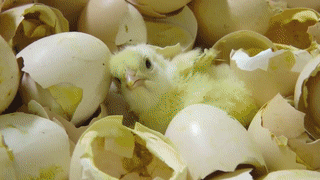 by Animal Equality

The chicken industry crushes babies alive :-( The alternative:
by Compassion Over Killing

We interrupt your regularly-scheduled work day with this adorable video of a rabbit chowing on a banana -- SHARE if this makes you smile :-)