by KindMeal.my

These black-and-white ruffed lemurs are the biggest pollinators in the world!
by KindMeal.my

Dr. Jane Goodall shares her deep commitment and hope for Earth Day 2022. ❤️
by KindMeal.my

Try this delightful, irresistible vegan steak bake!
by KindMeal.my

These donkeys are just loving the life!
by Compassion Over Killing

This is Ruby from Heartwood Haven. She is the greatest piggygator alive! Ruby is fun loving, sweet, and loves to go swimming in the ponds every summer. She arrived to Heartwood Haven unable to walk. It took a lot of trial and error but eventually they found the right treatment for Ruby. After a few ..
by Animal Equality

Happy Earth Day! 🌍 There's never been a more crucial time to take action for the Earth. Both system change and individual actions are important – and you have the power to change the future for animals and our planet! Choose vegan today and every day 🌱
by Compassion Over Killing

Animal Outlook's Executive Director Cheryl Leahy was recently interviewed by Thrive Global. She speaks on the value of adaptation, how her vegan journey began, and more. You can read Cheryl's interview here:
by Compassion Over Killing

This is Ollie from @Goatlandia Farm Animal Sanctuary and Education Center. He was found wandering alone on the side of the road in Bodega Bay with no houses or people around for miles. He still had his umbilical cord attached so he was probably just a couple of days old. We estimate he was born arou..
by Animal Equality

Animal Equality's new investigation in Italy reveals how the meat industry's selective breeding of fast-growing chickens condemns them to a life of suffering.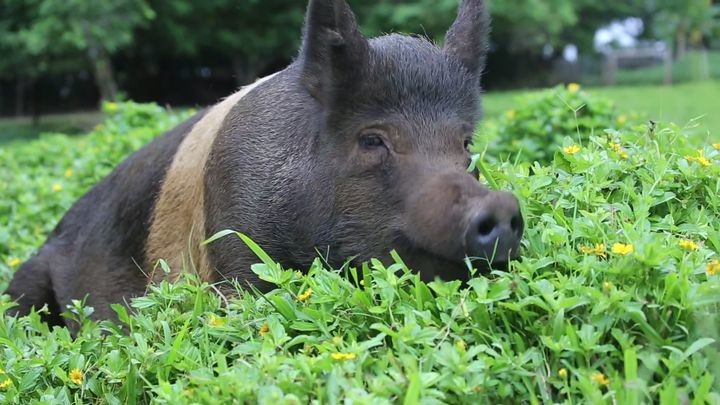 by Compassion Over Killing

This is Charlotte from Leilani Farm Sanctuary of Maui. She escaped from a pork farm where pigs were being bred for bacon, sausage, ham, and hotdogs. Charlotte is an animal ambassador for this year's VegWeek, which runs from April 18th to the 24th. We want you to pledge to go vegan for VegWeek, and ..