by KindMeal.my

PC Studio Cafe, Damansara Intan PJ indulges you in a delightful meat-free Western culinary experience amidst a cozy ambience, while also offering plant-based cooking classes. Feast to your satisfaction on a delicious range of burgers, pasta, sandwiches, salads, snacks and refreshing beverages! Enj..
by KindMeal.my

Angelic, tiny wombat turns into a little monster once he hits puberty 😂
by KindMeal.my

Prince Cuisine at The Scott Garden KL indulges you with a taste of authentic Hong Kong food within a cozy atmosphere. Feast on flavorful HK-style dishes, fried rice, noodles, curry, vegetables, dim sum and more, prepared with special recipes and quality ingredients. Enjoy 30% off:
by Animal Equality

There's nothing humane about grinding up or gassing baby animals while they're fully conscious, but even egg brands labeled as "free range" or "humane" participate in this practice or work with hatcheries that do. Together we can BAN chick culling! ✍️ Sign the petition 👇
by Compassion Over Killing

Will IHOP offer a vegan option? We need YOUR HELP to make it happen. Take action now at ihopvegan.com #tryveg #vegan
by Animal Equality

PROGRESS FOR CHICKENS: Fresh n' Lean is a leading ready-to-eat meal delivery service known for its plant-based options. And now after talks with Animal Equality, they've adopted the Better Chicken Commitment! This is a big step in the right direction that will improve the lives of thousands of chick..
by Compassion Over Killing

Join us for VegWeek, April 19-25, 2021. Win prizes from incredible vegan brands like
 Treeline Cheese You'll receive daily emails containing recipes, tips, resources and more to support you on your vegan journey. *Prizes limited to U.S. residents only. #vegweek #vegpledge #tryveg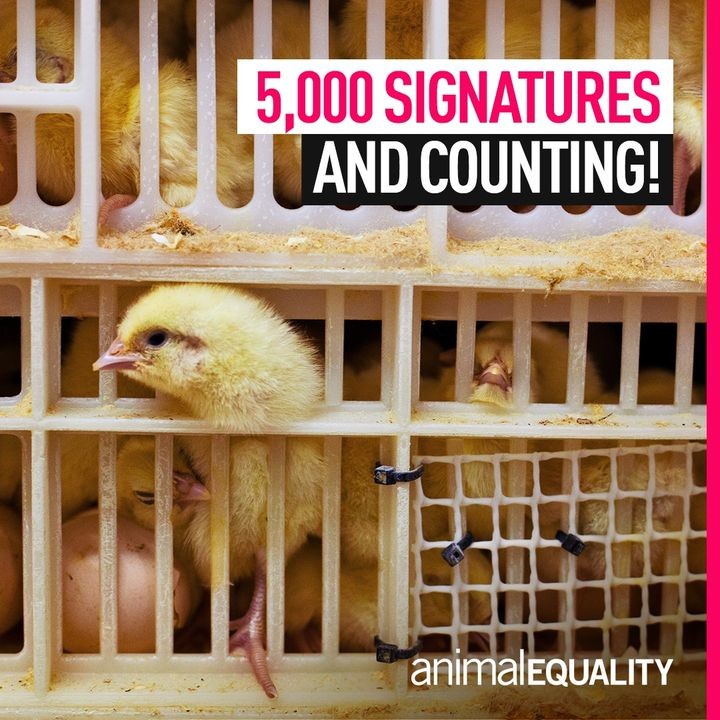 by Animal Equality

Our petition to ban chick culling has reached a staggering 5,000 signatures in just 24 hours! 🎉 Thank you to everyone who has spoken out against the mass slaughter of male chicks in the egg industry, who are typically killed by being shredded alive or other cruel methods. Help keep the momentum goi..
by Animal Equality

DYK: in the egg industry it's standard practice for all male chicks to be killed after hatching? They're gassed or ground up—even though technology exists that can prevent this! Join us in calling for a BAN on chick culling www.banchickculling.com
by Compassion Over Killing

Are you up for the challenge of eating vegan for a week? Join us and Dotsie Bausch for VegWeek (April 19-25) by taking the seven-day #VegPledge. #vegweek #tryveg #vegpledge