by KindMeal.my

KFC Singapore will no longer provide plastic straws or use plastic lids for drinks when customers dine at its 84 outlets, in an initiative to go green. The move will save an estimated 17.9 tonnes of single-use plastics in a year. Let's hope KFC Malaysia will follow the excellent example!
by KindMeal.my

Mad about food? Visit MEDAL MAD, Kepong for their madly tasty meat-free creations. Enjoy a selection of Western cuisine, signature mocktails and desserts. Don't miss out on their egg bubble waffle!
by KindMeal.my

With the stocky build of something out of the Gremlins and the smooth locks of the frontman of an '80s hair band, this little lady is quite the stunner. She's a cotton-top tamarin at Zoo Boise. Sadly, she's among the last of her kind.
by KindMeal.my

Greens Home Kitchen, Kepong brings you Malaysian-inspired fusion delights! Surprise yourself with creative delights such as sambal petai burger, creamy ramen, pandan lemongrass chicken rice, green curry spaghetti and sambal pizza. Enjoy 20% off with KindMeal app:
by Animal Equality

Help make a difference in the lives of animals by taking part in easy, online actions that take just minutes! Your volunteer work WILL create change - join the Animal Protectors today!
by Compassion Over Killing

COK is bringing the truth to thousands across the country with our new Beyond The Lies tour and powerful video! Catch us on the Warped Tour and at events and campuses across California this summer - dates & cities below! Find more info at BeyondTheLies.org.
by Vegan.com

If you're famished and worst comes to worst, remember that you can always eat peanuts or almonds. Every gas station and airport shop carries them!
by Animal Equality

Before humans decided to take control, hens would naturally only lay about 30 eggs per year. But with decades of genetic modification and selective breeding, along with light manipulation inside barns, hens now produce about 300 eggs per year. This unnaturally high rate of egg-laying results in freq..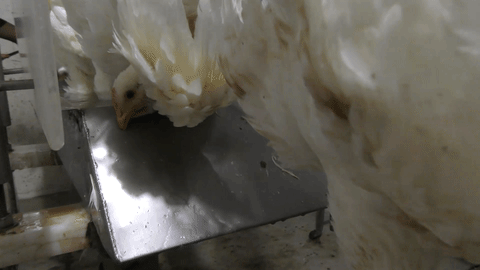 by Animal Equality

Electrical waterbath stunning is the most commonly used method for poultry stunning prior to slaughter. However, on occasion the workers do not properly shackle the birds, therefore, some do not reach the water and their throats are slit while still fully conscious. Imagine their fear. 💔
by Compassion Over Killing

BOCA just unveiled 2 new vegan products: falafel in original and chipotle flavor! 😮 That's a great start, but we think ALL BOCA products should be vegan. Agree? Sign our petition here: cok.net/BOCA