by KindMeal.my

Feast like an emperor at M&W Healthy Vegetarian Restaurant, Kepong, indulging in over 100 sumptuous oriental dishes! Enjoy 20% off their oriental snacks, soups, dishes, noodles, desserts, specials and drinks!
by Animal Equality

We've been asking McDonald's to eliminate some of the worst farming abuses going on in its supply chain, but we need your help! Please sign our petition asking the fast food chain to make changes for chickens! 📝👇
by Compassion Over Killing

Valentine's Day is right around the corner and there's no better way to show someone you care than to make them something from the heart that they can eat. Here are a few #vegan #ValentinesDay recipes to try:
by Animal Equality

Animal Equality Mexico (Igualdad Animal México) is turning Mexico plant-based! 🙌🌱 The super popular "Discover Your Food" campaign aims to educate people and help them on the path to an animal-free diet.
by Compassion Over Killing

Congressman Fred Keller, are you aware of what is happening just down the road in Chambersburg? Many of the horrors in this video are industry standard:
by Compassion Over Killing

This Valentine's Day, Tyson Foods is hosting a #nuggetbouquetchallenge on Twitter. But Valentine's Day is about compassion, not cruelty. Animal Outlook investigations in Tyson facilities have exposed violent abuses like workers punching, kicking, and throwing live birds, birds crushed by forklifts..
by Animal Equality

We're fighting for cows suffering in the cruel commercial dairy industry, and we won't give up until every animal is respected and protected. ❤️🐮✊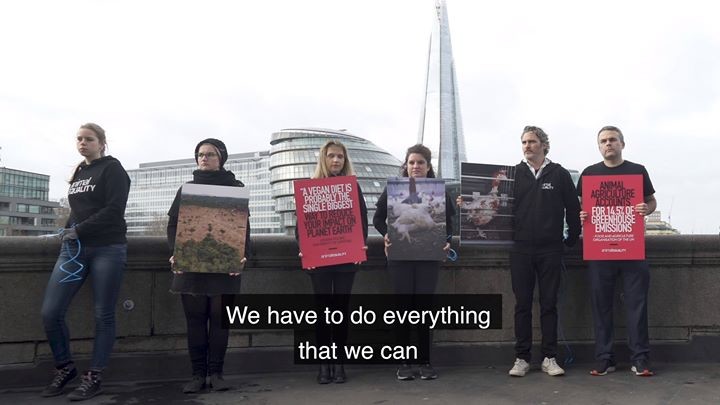 by Animal Equality

ICYMI: Joaquin Phoenix joined Animal Equality to protest factory farming with a massive banner drop in London. He even handed out literature and talked to passersby about the effects of the meat and dairy industries on climate change. Tag a friend to help us share Joaquin's important message!
by Animal Equality

PROGRESS: After talks with Animal Equality and other animal protection groups, Which Wich has just committed to making improvements in its supply chain that will eliminate some of the worst farming practices affecting chickens. (They offer some great plant-based options, too! 😉) Now let's urge McDo..