by KindMeal.my

This enormous sea turtle is so happy to swim back to the ocean!
by Animal Equality

DYK that right now in New Jersey female pigs are forced to spend much of their lives in cages so small that they can't even turn around?! New Jersey state legislature is currently considering legislation to ban these horrific forms of confinement, but they need to hear from residents like you! Plea..
by Compassion Over Killing

'This goes so far over the line' — Animal Outlook executive director Cheryl Leahy is taking a stand against foie gras and those trying to prevent it from being banned (Warning: distressing images)
by Animal Equality

Every action you take to help farmed animals makes a difference! Join the Animal Allies today during our summer Match Challenge and your monthly donations will go even farther by being instantly doubled for a whole YEAR! Set up your recurring donation here: bit.ly/MatchingGiftAllies
by Compassion Over Killing

What is aquaculture and how does it impact animal welfare, the environment and our health? Read more from Animal Outlook's Erin Wing.
by Animal Equality

ICYMI: Our president and co-founder Sharon Núñez joined Rain Phoenix on her outstanding podcast LaunchLeft. Watch the exclusive interview in which they discuss how the way we treat animals intersects with compassion toward our fellow humans, and much more. 👉bit.ly/LaunchLeftAnimalEquality
by Animal Equality

The fishing industry is not only cruel, but it's also destroying our oceans at an alarming rate. Take action: #WorldOceansDay
by Animal Equality

BREAKING: Nevada legislators passed a bill that will ban caging of hens in the egg industry and require all eggs sold in the state to come from cage-free facilities. The new law also adds specific enrichments for the animals—like perches, dust-bathing areas and nests—plus a minimum of one square foo..
by Animal Equality

Undercover investigators know the depth of suffering that animals face every day trapped inside a factory farm. Your support means that our investigators like Sean can expose this cruelty to the public to put an end to it. Right now all donations are being matched – please give today to make TWICE ..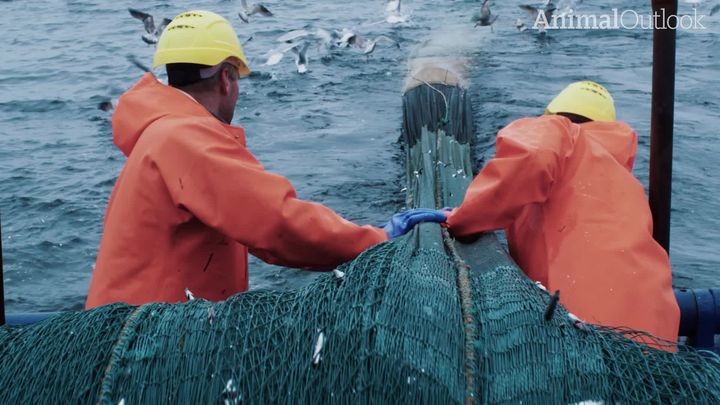 by Compassion Over Killing

Today is #WorldOceansDay, and we are bringing awareness to the horrible industry that is fish factory farming. Our 2019 investigation of Cooke Aquaculture--a salmon hatchery--revealed putrid conditions, rampant disease and widespread cruelty to fish intensively crowded in barren tanks.