by KindMeal.my

Enjoy healthy, nutritious breakfasts and lunches at Blissful Cottage by Jing Shi Bakery! Prepared with quality organic and natural ingredients, the home cook-style meals will make you feel right at home. Get 20% off now:
by KindMeal.my

Cutting back on carbs? Then you'll love these 7 low-carb dinners.
by KindMeal.my

Specially crafted for KindMeal members with 30% off:
by KindMeal.my

Can you guess the babies?
by KindMeal.my

Enjoy a weekday assortment of Thai, Indonesian, Italian and local delights, or be surprised by special menus on weekends. Get up to 25% off:
by Animal Equality

On International Animal Rights Day (December 10), Animal Equality holds ceremonies for those we have lost at the hands of humans. This day is an opportunity to remind society that freedom, justice and dignity are inclusive terms, since suffering and the desire to live are not confined to a particula..
by Compassion Over Killing

Federal employees in every state will find Compassion Over Killing listed as charity #10468 (Animal Charities of America Federation). Are *you* a champion for farmed animals? We've created office posters for you to share. Download today at: cok.net/otherwaystogive.
by Compassion Over Killing

Help us Disrupt Big Ag & Change the World! Your gift today will go twice as far! As part of our year-end challenge, all donations through Dec. 31, will be MATCHED! cok.net/donate
by Vegan.com

"The thing that's annoying about there suddenly being lots of [vegans] is the nagging suspicion that they might be right."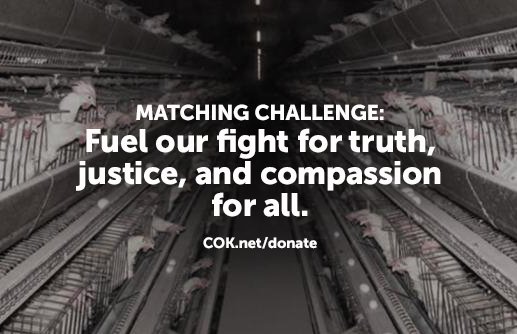 by Compassion Over Killing

OOOPS: If you've had trouble donating on our site to get your free holiday gifts, we found the error and it's been fixed! We hope you'll try again -- we appreciate your patience & your support 💝