by KindMeal.my

紫藤茶原 Purple Cane Tea Restaurant brings you healthy, creative tea-infused gourmet with natural aroma and flavors! Feast on meat-free delights from the categories of egg & beancurd, vegetables, tea rice & noodles and CNY ala carte dishes, infused with fragrant teas such as Pu'er, Dong Ding Oolong and..
by KindMeal.my

These heroes went out of their way to save sharks!
by KindMeal.my

Experience authentic Latin American cuisine at Casa Latina & Cacao Lab Ampang, prepared by their Venezuelan celebrity chef! Immerse in a cozy home atmosphere while indulging in cacao pasta, empanadas, arepas, tequenos, tacos, gourmet coffees and more. Enjoy 15% off now:
by Compassion Over Killing

A beautiful portrait series: Allowed to Grow Old ❤️ "Isa Leshko's portraits of ageing animals are a tribute to creatures too often dismissed as mere livestock – and a poignant reminder of our own mortality."
by Animal Equality

Shortly after birth, calves are dragged away from their mothers never to be seen again, and the milk she produces for her calf is instead taken from her and sold to consumers. 💔 Learn more about what we're doing to help: bit.ly/AEDairy
by Compassion Over Killing

Have you asked The Pope to go vegan yet? How many times in your life will you have a chance to answer *that* question?
by Compassion Over Killing

The Switch4Good Podcast just launched! Run by a coalition of plant-based athletes and nutrition leaders, the interview-style show features guests and thought leaders across the health, fitness, and nutrition fields, making for a fun and informative listen. Olympic medalist Dotsie Bausch alongside Ba..
by Vegan.com

In the livestock industry, foot-and-mouth disease is probably the most feared malady as it can prompt orders to kill millions of cattle, sheep, and pigs to get the disease under control. An outbreak just surfaced in Australia.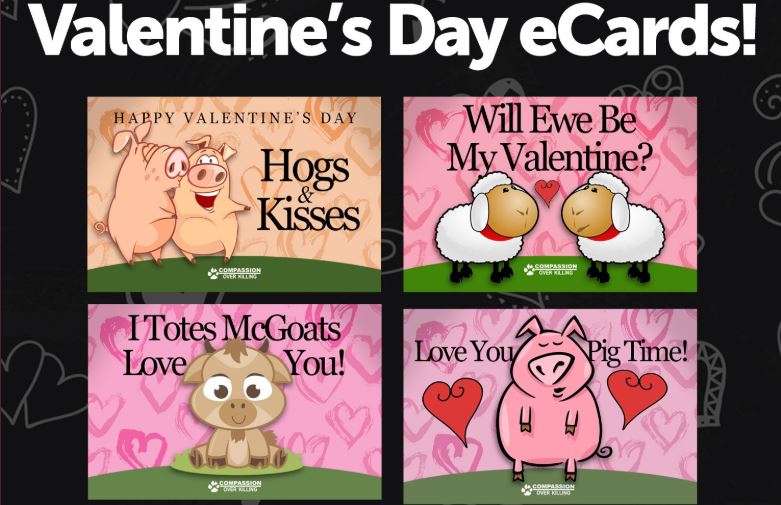 by Compassion Over Killing

It's not too late to show your loved one -- and animals -- how much you care with these special Valentine's Day e-cards ❤️
by Vegan.com

Vegan.com has been thoroughly revamped from top to bottom. If you haven't visited the site in a while, please check it out and spread the word.