by KindMeal.my

This Sticky Korean-Style Tofu with Aromatic Rice is packed with protein and fiber!
by KindMeal.my

Sometimes the oddest pairings seem to work.
by Compassion Over Killing

TBT: This is Sadey🦃 (and her friend Ethel🐷) and they live at Harvest Home Animal Sanctuary. In 2018, Sadey was saved from Thanksgiving slaughter and found her way to sanctuary. Today, she is an accomplished author and was an Animal Ambassador for our annual VegWeek earlier this year 💚
by Compassion Over Killing

An Animal Outlook investigator shares a tender moment with a baby turkey -- probably the only kindness she will be shown in her whole life. On Foster Farms, a turkey hatchery in California, baby turkeys who are sick, injured, or deemed unprofitable, are ground up alive. Others are put into a plast..
by Animal Equality

✨US Supporters✨ Put your compassion for farmed animals into action! On Monday, November 21 from 5-6 PM, Pacific, USA, join Animal Equality for a volunteer orientation and become an Animal Protector! Help us create a world in which all animals are respected & protected. 🐷💙 👉 Sign up:
by Compassion Over Killing

Our Executive Director, Cheryl Leahy, recounts her eight-year-old recently coming home from school with an assignment on the traditions of Thanksgiving in this blog post. Read here:
by Compassion Over Killing

Did you know? Farm Sanctuary in Watkins Glen, New York hosts an annual Celebration for the Turkeys, an autumn event that draws hundreds of visitors for a weekend of education, comradery, a communal Thanksgiving meal and time spent with rescued animals. The turkeys are even celebrated with their own ..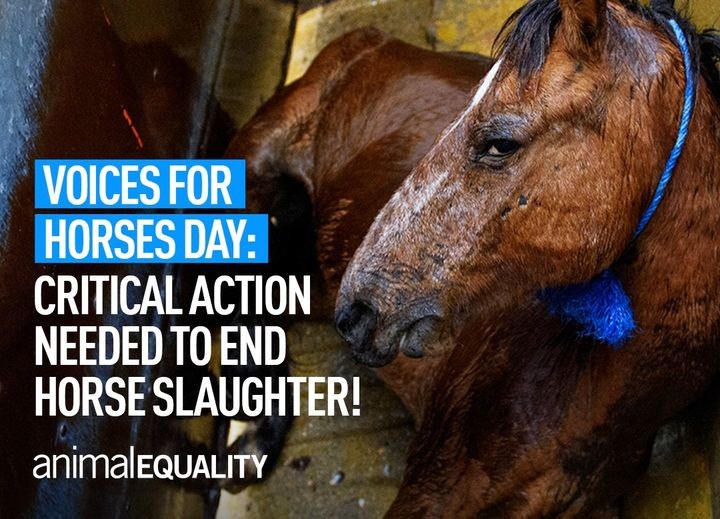 by Animal Equality

Today is critical for the efforts to ban the slaughter of American horses‼️ For Voices for Horses Day, join us in taking immediate action to end the killing of horses for human consumption. 💥There's no time to waste!💥 Take action now:
by Animal Equality

For a limited time, your donation will be doubled—meaning twice the impact to help end farmed animal abuse! 💙 If you donate today, a generous donor—who has chosen to remain anonymous—will match your contribution. 🌟 For example, if you donate $30, he'll donate $30. This means $60 total to protect an..
by Compassion Over Killing

Pigs farmed for meat are subjected to torment their entire lives. It's cruel - these sentient beings deserve happy, healthy lives of freedom. Find out more about what pigs in the animal agriculture industry endure: Image: Jo-Anne McArthur / We Animals Media